The VX130 is a one-of-a-kind, state-of-the-art instrument that combines technologies never before seen in a single instrument (Scheimpflug tomography, Shack-Hartmann wavefront aberrometry, and Placido ring corneal topography) and provides essential data for an improved treatment of patients. With fully automated measurements, the VX130 is the ideal patient monitoring system.
Key Features: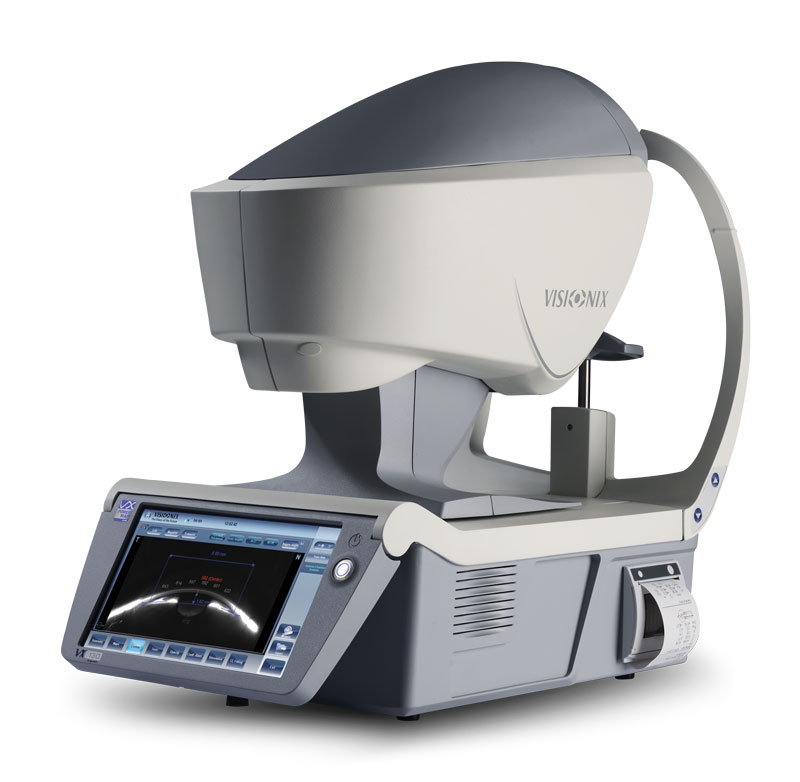 Placido Ring corneal topographer with 100000 measurement points
High density Shack-Hartmann wavefront aberrometry up to 1500 points
Scheimpflug imaging corneal tomography and pachymetry
Measures pupils as small as 2mm
Automatic right / left eye movement
Autotracking
Automeasurement
Autofocusing
Based on Wavefront technology
Retro-illumination - spot aberrations in the IOL and cornea scratches easily
Global view of refraction aberrations EMR and VX55 digital refraction compatibility
10.4" Color Touchscreen interface
Download Product Brochure (PDF)
ANTERIOR AND POSTERIOR CORNEAL TOMOGRAPHY
The VX130 offers complete analysis of the anterior and posterior surface of the corneal, making it ideal for keratoconus and Ectasia screening and monitoring.
POWERMAP® SHACK-HARTMANN WAVEFRONT TECHNOLOGY
The unique Powermap® sensor analyzes wavefront distortions at the pupil exit after crossing optics. With over 1500 measurement points, this allows for a complete view of both low and high order aberrations and enables measurement of pupil diameters as small as 2mm.
RETRO-ILLUMINATION
Using infrared retro-illumination, the VX130 provides a detailed view of the eye which is helpful for identifying cataracts, vitreous opacity, scars, and other serious eye problems.
MULTI-DIAGNOSTIC INSTRUMENT
By combining a Wavefront Aberrometer, Pachymeter, Corneal Topographer, Autorefractor, Keratometer, and Non-Contact Tonometer combined with Anterior Chamber Analysis into one unit, you save on cost, space, and increase your efficiency in your practice making this instrument an easy purchase.
EMR AND THIRD PARTY INSTRUMENT COMMUNICATION
The VX130 features comprehensive EMR support and integrates with most third party instruments.
FULLY AUTOMATIC 3D ALIGNMENT, TRACKING, AND FOCUSING
The VX130 is completely automated, requiring very little input from the operator. After the measurement process begins, the unit will align, track, focus, and automatically take measurements with high accuracy, reliability, and speed.